Guess what? Global marketing is no longer reserved for deep-pocketed brands, nor is it a major hassle for already overwhelmed marketing managers.
Indeed, a global presence is possible for any company with a creative strategy and an understanding of world markets.
What is good global marketing?
Global marketing is the process of targeting a product to the needs of potential buyers in other countries.
However, as with most types of marketing, a global marketing strategy depends on one thing: the audience. Knowing who needs your product, what form it should be delivered in, and how to make it in ways that will strengthen the brand are the main ingredients of great global marketing.
Typically, a global marketing strategy requires a company to conduct new market research, identify countries where the company's product may be successful, and then localize the brand to reflect the needs of those communities. However, localization is not always necessary. Instead, some brands have a global standardization strategy.
Global standardization strategy
A global standardization strategy relates to the ability to use standardized marketing messages and campaigns across markets, countries and cultures.
In contrast to localization, in which a more differentiated marketing approach applies to each market, global standardization offers significant cost advantages due to less messaging and fewer campaigns.
The key, however, is knowing when a global standardization strategy will take effect. Since it has a universal appeal despite cultural or local differences, you need to investigate whether customers use or think about your products differently depending on the market. When there is no country-to-country difference between usage and understanding, a global approach to standardization comes in handy.
Choosing localization or global standardization is one aspect of developing a great global marketing strategy.
To give you an idea of ​​what a great global marketing strategy looks like, we've put together a list of brands that really get it.
From adapting their social strategies for translation into multiple languages ​​to adapting their menus to the desires of a diverse group of people, these brands are taking positive steps to create a solid presence around the world.
So, if you're looking for inspiration on how to develop a successful international marketing strategy and expand the reach of your business, check out these examples of these successful companies.
Global Marketing Strategies
Red Bull
Airbnb
Dunkin donuts
domino
Rezdy
World Wildlife Foundation
Pearse Trust
Nike
MC Donalds
Innocent drinks
Unger and Kowitt
Coke
Spotify
1. Red Bull
Austrian company Red Bull does such a good job in global marketing that many Americans assume it is a local brand. As?
One of the most successful tactics is hosting extreme sports events around the world. From the Red Bull Indianapolis Grand Prix to the Red Bull Air Race in Great Britain to the Red Bull Soapbox Race in Jordan, the brand's powerful event marketing strategy takes them here, there and everywhere.
In addition to the events, Red Bull's packaging also plays a role in global attractiveness.
"Red Bull really looks like a product from a global economy. It doesn't look like a traditional American soft drink – it's not in a 12-ounce can, it isn't sold in a bottle, and it doesn't have any script like Pepsi or." Coke. It looks European. It's important, "explains Nancy F. Koehn, professor at Harvard Business School, in a 2001 article. Although the product choices have diversified since this article was published, the fact remains that the Red Bull's consistent packaging has helped this brand operate globally.
2. Airbnb
Airbnb, a community marketplace where people worldwide can list and book accommodations, was founded in 2008 in San Francisco, California.
Since then, Airbnb has grown to over 1,500,000 entries in more than 34,000 cities worldwide. A major contribution to the company's explosive global success? Social media.
In January 2015, Airbnb started a social media campaign around the hashtag #OneLessStranger. The company described the campaign as a "global social experiment," in which Airbnb asked the community to do random acts of hospitality for strangers, then take a video or photo with the person and share it using the hashtag.
Just three weeks after the campaign started, over 3,000,000 people around the world got involved, created content or talked about the campaign.
3. Dunkin Donuts
In case you missed it, National Donut Day was last June. And while we were getting our hands dirty here in the US with a Boston cream (or two), Dunkin Donuts China served up a fresh batch of dry pork and seaweed donuts.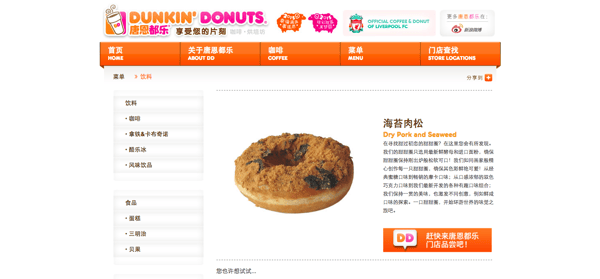 With over 3,200 stores in 36 countries outside the US, Dunkin Donuts has continued to develop its menu to satisfy the sweet tooth of its global customers.
From Korea's Grapefruit Coolata to Lebanon's Mango Chocolate Donut to Russia's Dunclairs, it's clear that Dunkin Donuts aren't afraid to celebrate cultural differences to bolster their international presence.
4. Dominoes
Similar to Dunkin Donuts, Domino's has prioritized menu innovations as a means of increasing international interest and awareness.
"The joy of pizza is that bread, sauce and cheese basically work everywhere, except maybe in China, where dairy products weren't a big part of their diet until recently," explains Dominos CEO J. Patrick Doyle.
"And it's easy to switch toppings from market to market. In Asia there is seafood and fish. In India, it's curry. But half of the toppings are standard offerings worldwide."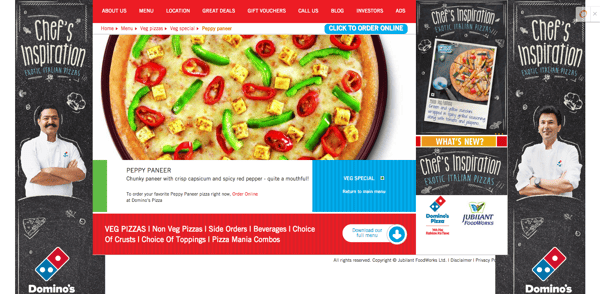 By making conscious efforts to better understand the preferences of the markets it is trying to penetrate, Domino's can deliver cakes diverse enough to attract international attention.
5. Rezdy
Some companies may not be trying to attract global markets directly, but if these are their customers they know better how. Rezdy is Australia-based reservation software designed to make online booking smoother for tourists and agents alike.
Although Rezdy's customers are based in Australia, the company must serve its customers' international visitors. Click the screenshot to watch this funny video on Rezdy's homepage:
The first feature of the Video Spotlights is "Internationalization". The video shows us how easy the service is for users, but emphasizes the language and currency customization tool in advance. Even if your company markets to other regional companies, consider their global customers as your own.
6. World Wildlife Foundation
WWF took its Earth Hour initiative – a voluntary global event where attendees turn off lights for an hour to show how easy it can be to fight climate change – and brought it to Norway's mobile audience.
Scandinavian countries like Norway experience extreme hours of daylight at different times of the year, making the country a prime candidate for WWF's blackout campaign. With the digital agency Mobiento, the non-profit organization placed the blackout banner on Norway's top media sites to advertise Earth Hour. With a tap on the banner, the screen went black. A finger slowly swiped across the black screen showed the countdown to the earth hour. The banner drew around 1,000,000 impressions and the campaign received three MMA Global Mobile Marketing Awards in 2012.
Image source
Do you have a cool idea? Don't be afraid to try it out in an international market – just make sure it is the right audience. (Don't be afraid of the dark either.)
7. Pearse Trust
With offices in Dublin, London, Vancouver, Atlanta and Wellington, the Pearse Trust has developed into an international authority on corporate and trust structures. However, it takes more than just offices across the map to reach an international audience.
For this reason, Pearse Trust ensures that the content on its Facebook page, which affects the various markets, flows. In this screenshot below you can see how Pearse Trust publishes a lot of content on international affairs related to corporate practice.
It also balances external articles with Pearse Trust content, which includes news from countries like Germany, Ireland (which has an office in Dublin) and the UK (which has an office in London). This is a great example of how you can focus on common interests shared between your company's different markets while making the content accessible to customers by region.
8. Nike
Nike has been able to develop its global presence through careful selection of international sponsorship offerings such as its longstanding relationship with Manchester United.
While sponsorship expenses can be quite unpredictable – demand costs tend to rise due to triggers such as championships and tournaments – these partnerships have certainly helped the brand attract the attention of a global audience.
Nike's NikeID co-creation platform is another strategy the company uses to address international markets.
By putting the power of design in the hands of the consumer, Nike can deliver bespoke products that are tailored to different cultural preferences and styles.
9. McDonald's
We all know that McDonald's is a successful global brand. Unlike his menu, I'll keep it light.
While McDonald's is keeping its overall branding consistent, it has "glocal" marketing efforts. No, that's not a typo. McDonald's literally brings a local flair to different countries with regional menu items. In 2003, McDonald's introduced the McArabia, a flatbread sandwich, to its Middle Eastern restaurants.

McDonald's has also added macaroons to its French menu:
And McSpaghetti added to his menu in the Philippines: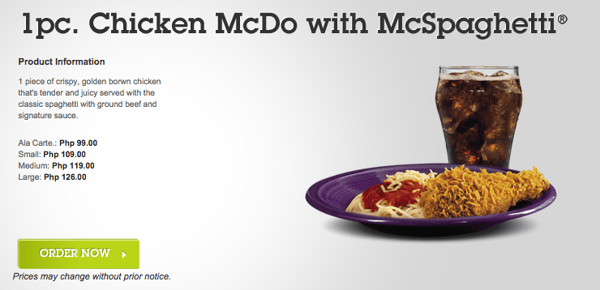 This "glocal" approach has helped McDonald's rank 9 in Interbrand's Best Global Brands 2014.
10. Innocent drinks
Innocent Drinks is the UK's leading smoothie company, but this isn't the only place to find their products. Innocent products are now available in 15 countries across Europe.
And despite its widespread reach, the company's "chatty branding" remains consistent across the board. For example, the website is very lively with contact information like "call the banana phone" or "visit the fruit towers".
While global expansion and rapid growth can sometimes distract a company from consistent branding, Innocent Drinks has managed to stay true to itself. Innocent ensures that the voice of the brand is interpreted the same way around the world, creating a more recognizable brand.
11. Unger and Kowitt
The term "glocal" can be defined as "think globally, act locally". But what if you swap the two?
Whoa, buckle up – in the truest sense of the word. Unger and Kowitt is a Fort Lauderdale based transportation ticket law firm that defends drivers in the state of Florida. Not very global, is it? Well, Unger and Kowitt understand that America is a melting pot and that Florida is bursting at the seams with different cultures and languages.
Although it is a domestic service, the company's website is available in English, Spanish, Portuguese, and Creole. With these options, Unger and Kowitt Floridas can serve nearly 3.5 million Floridians who speak Spanish, Portuguese, or Creole. Don't miss out on expanding your customer base – sometimes you don't have to look far to attract international businesses.
12. Coca-Cola
Coca-Cola is a great example of a brand that uses international marketing efforts. Although Coca-Cola is a large company, it focuses on small community programs and invests large amounts of time and money in small charities.
In Egypt, for example, Coca-Cola has built 650 clean water systems in the rural village of Beni Suef and sponsors Ramadan meals for children in the Middle East. In India, the brand supports the Support My School initiative to improve facilities at local schools. Not to mention, when selling, the brand sticks with an emotion that cannot be lost in translation: happiness. Tell me this doesn't look like fun:
13. Spotify
As of 2018, Spotify was newly recognized as one of the best global companies in the world, according to Interbrand. We've all heard of Spotify (no pun intended), but how did it suddenly and so quickly expand from Sweden to other countries?
Spotify's business model is focused on helping you find something new.
It is one thing to choose a genre of music to listen to – it is another thing to choose a "mood" to listen to. The screenshot above is part of the Spotify Browse page, which not only lets you hear "Country" and "Hip-Hop", but also music that suits your "workout" or "sleep" preferences.
By changing the description of their content, Spotify is encouraging users to listen to music beyond their favorite genres and instead to meet habits and lifestyles shared by people around the world. This gives international artists access to listeners from other countries simply because their product is categorized differently.
Spotify now has offices in 17 countries worldwide.
If you have global ambitions for your business, you need to figure out what customers in different communities have in common – and how to localize your product for those different markets. Your first step? Take inspiration from any of the companies above.
Editor's note: This post was originally published in January 2019 and has been updated for completeness.